It's over?
January 10, 2010
Here I am, if any of my fellow Packers fans want to join me.
Posted by at January 10, 2010 08:25 PM

The trackback entry for this page is : http://www.inthehat.com/mt/mt-tb.cgi/1774

---
Comments
# January 10th, 2010 9:02 PM james
Not to whine about the officiating like SOME teams' fans are wont to do, but refs, if you're going to call a penalty on nearly every down, then why not call this one too?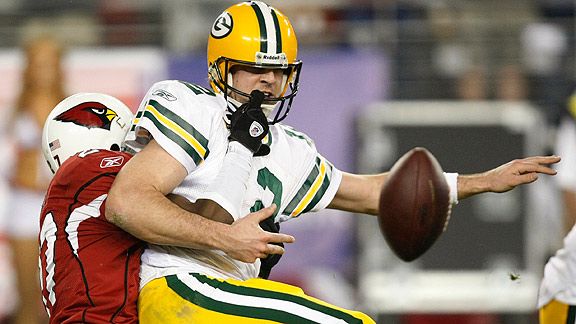 # January 10th, 2010 9:04 PM james
A commenter on the ESPN thread re: the above pic has a great point:



zootedcommish (1/10/2010 at 8:56 PM)

I bet if you had Brett Favre as your qb they call it

# January 10th, 2010 9:05 PM kris
On Twitter @Adam_Schefter says that by rule you can't have roughing the passer on a fumble - but that doesn't account for the prior play or the Fitzgerald takedowns of Woodson.

Again, not to whine like SOME people, but I was actually wondering if I didn't understand NFL rules and that maybe it was actually NOT a penalty for receivers to knock corners down. I dunno.

Squirrels. Squirrels. Squirrels.

# January 10th, 2010 9:16 PM james
I could be wrong, but I'm pretty sure that a "roughing the passer" penalty is not the same thing as a "facemask" penalty. So while Schefter may be correct, his response is neither here nor there.

And I'm really not blaming the officiating for this loss - there are so many others that deserve blame. Early miscues, dropped passes, inability to tackle, the fact that entire D seems to have missed the plane to AZ, Mason Crosby, etc. I'm just sayin...

# January 10th, 2010 9:18 PM kris
Personally, I'm blaming it on the fact that everyone prayed to their dead relatives for their kicker to miss the FG and therefore we had nothing left for OT.

# January 10th, 2010 9:19 PM james
I was pretty annoyed with McCarthy's call to simply take a knee & run the clock out at the end of the game. Why not take a shot, maybe 2? Receivers were open all day, and the refs were throwing flags like crazy. Why be content to let it all it come down to a coin toss?

# January 10th, 2010 9:22 PM kris
Yeah, that might have been okay since AZ was so manic at that point too.

I'm kind of annoyed that they scored too soon. I was thinking that the only way they would win is if they scored with almost no time left and then he had the balls to go for two and the win. ]

On the positive side, in the midst of the loss we're forgetting about the onside kick. Damn.

Someone on the radio mentioned that the one Packer that came to play from the start was Ryan Grant. Which yeah, he was solid after playing possum all year.

Oh my god, is it August yet?

# January 10th, 2010 9:27 PM BVBigBro
It was the most flagrant facemask I've seen all year. He also slammed his head to the ground. Note that Arizona will be credited with a sack on the play so the passer rules are in effect.

Having said that, someone needs to open a dictionary to "A", hand it Dom Capers and point out the word "adjustment". Capers has a history of simply sitting back with the defense he begins the game with and do nothing different in the apparent belief that if someone completes 10 passes in a row against you they are unlikely to complete number 11. The reality is that if someone completes 10 passes in a row against you are doing something wrong and they are highly likely to complete number 11 against you.

Offensively the Packers took too long getting Finley into the action. He was an obvious mismatch against Arizona going into this game and should have been the focal point of the attack from the start.

# January 10th, 2010 9:30 PM kris
It somehow seems appropriate that I'm watching "Ten Ways To Destroy The Earth" on History International right now. I feel like #1 is going to be "The Minnesota Vikings win the Super Bowl"

I don't understand the lack of adjustments either. I mean, it wasn't possible that by making adjustments the defense would perform worse, right? I don't understand why he was so wedded to his game plan.



# January 10th, 2010 9:34 PM james
That whole last 5 mins of the game was just a mess, as far as clock management goes. It's as if McCarthy thought it was only the third quarter.

On the bright side, the O-Line looked great, as did Rodgers. Rookie TJ Lang, who came in for an injured Clifton, surprised me with his strong play. Crosby has to go, though. And hey, defense, how about spending less time trying to force a fumble and more time trying to make an actual tackle? 'Cuz giving up 8 yards after initial contact on every freaking play isn't a sustainable game plan, ya know?


# January 10th, 2010 9:48 PM james
Was anyone else calling for the Pack to go for the 2 point conversion on either of their last 2 touchdowns? I was. I can't justify the call strategically, but I think it would have been grand to see. :)


# January 10th, 2010 9:54 PM kris
Not with 2 minutes left to play. What would they have gained? They would have been up by 1 at best and a FG still wins.

Of course, they way it turned out, they would have won - but the risk/reward was too much in that spot for me. Apparently I'm a conservative old fuddy duddy now, but at least I don't use the term "grand" :)

# January 10th, 2010 10:00 PM BVBigBro
I thought about the 2 point. I also thought about another onside kick.

# January 10th, 2010 10:03 PM kris
I would support the onside kick more. If you think you can't stop them, one more point doesn't mean anything, but possession means everything.

# January 10th, 2010 10:25 PM james
The scenarios, with 2 minutes left to play:

A. Go for the 1 point, assume you make it. Game is tied. AZ needs a FG to win it. Your defense needs to get a stop, or your season is over. If you get that stop, you head to OT, where a coin flip will likely decide the outcome. 50-50, because the way this game has been going, no one can get a stop.

B. Go for the 2 point conversion but fail. Packers are down by 1. This is not good. But at least you have 2 timeouts left, so if you make that stop, you get the ball back with 25 seconds or so. Time to work that magic. You probably won't get that stop, but hey, it's worth a shot.

C. Go for the 2 point conversion and make it. Packers are up by one. AZ has to get to about the 35 yard line to kick a FG to win it. But if the defense makes a stop, you win the game. If not, you likely lose.

I felt that the likelihood of getting the 2 point conversion was about 80%. The likelihood of making the stop, meh, not so great. Maybe 20%. But in all of these scenarios, you needed one thing - a defensive stop. So why not go for the two, get it, then turn to your defense and say, "it's all up to you?" Doesn't that motive them? Doesn't that 20% chance go up a bit?


# January 10th, 2010 10:27 PM james
I thought about the onside as well. That would have been nice to see. I'm guessing that AZ was ready for it?

# January 10th, 2010 10:28 PM BVBigBro
This is why I like the onside kick. If you are already assuming a defensive stop, why not add the possibility of possession?

# January 10th, 2010 10:34 PM kris
The other thing about the onside kick is that if you don't recover it you'll basically make it easier for AZ to score quicker so worst case scenario would have been that GB could have got the ball back with a minute on the clock and some timeouts and then the whole 2-point for the win could have happened.

Oh why didn't that happen?

# January 10th, 2010 10:40 PM james
I like the onside as well. What are the stats on onside recoveries this year? I seem to remember hearing 60%, but that can't be right...?

How about A) the 2 point conversion try, followed by B) an onside kick? You get A & B, you win. You get A & not B, you need a stop to win. You miss A & get B, you need a FG, which we'll assume is a given, despite Mason Crosby. You miss A & you miss B, you lose.



# January 10th, 2010 10:50 PM kris
I still don't think you gain enough for A to make it worth your while.

So if you could have magically put Favre in the game after the first two possessions, how many interceptions would he have thrown?

I say 4.

# January 10th, 2010 10:56 PM james
I actually had that a nearly identical conversation during the game. I think that if Favre is down 0-17, he starts lobbing them all over the place and the Packers lose big.

As the announcers dronefully repeat,

"Brett, he just wants to win so bad,"

"Brett just wants to make things happen, it's his love for competition,"

"40 year old Brett has a heavy burden carrying this young team,"

"You can just see the frustration in Brett's eyes."

In the case, Favre throws 5 interceptions and the game ends 52-17. (Because the Cards let up.)

# January 10th, 2010 11:00 PM kris
and then they'd start talking about whether it was his last game. seriously, please let that whole thing happen on Sunday. I know it makes me an awful, bitter person, but I want to watch that and just laugh and laugh and laugh.

# January 10th, 2010 11:06 PM james
Personally, I'd prefer to see it happen in the NFC title game. Just like in '07. :)

# January 10th, 2010 11:09 PM kris
I don't know. I mean, the closer they get to the Super Bowl, the more it will hurt, but on the other hand, if they lost this weekend it'd be right in front of all of their assy fans.

# January 10th, 2010 11:21 PM james
Since when do Vikings fans actually attend Vikings games?


# January 10th, 2010 11:29 PM kris
good point

i'd like New Orleans to win the NFC, but I think Favre would be most devastated to lose to Warner because it'd be like losing to who he thinks he is.

okay, i gotta shut up about this because i feel like there's going to be some kind of payback for spewing so much bile.

# January 10th, 2010 11:32 PM james
I have to say, I disagree with what seems to be the vast majority of news outlets reporting that this game is "one of the best ever." The game had a lot of scoring, but that doesn't make for a good football game. Where was the defense?

Today, I'm watching the game, and I see that AZ has the ball. I think, "OK, so they'll score, how much time is left for the Packers to score too?" This wasn't a good game. This was a race against the clock.

The people who think this was a great game should check out a few offensive scrimmages.

# January 10th, 2010 11:40 PM james
Seeing the Vikings do well doesn't hurt me. The Bears are the Packers' rival, not the Vikings. That goes for all Minnesota sports as well - Bucky doesn't care about Goldy. At least not in my part of the state.

I realize that it's a bit different in Western Wisconsin. There, the proximity to Minnesota and having neighbor Minnesotans make it seem like a big deal.

But for 4/5 Wisconsin sports fans, the idea of Minnesota as a rival never enters our thoughts.

It takes 2 to make a rivalry. When it's this one sided, it's just sad.

# January 10th, 2010 11:43 PM kris
It's the same people who bitch about Badger basketball being "boring" because they play defense. They only see the obvious.

I'm trying to think of the best game I've seen now. I think maybe it's the GB/SF regular season game from the Super Bowl year. There was a lot of scoring, but there was also good defense and hard hitting.

I can't recall a single impressive hit from today's game.

# January 10th, 2010 11:48 PM kris
Seeing the Vikings, for example, win the Super Bowl might literally kill me as I'd probably fly off the handle at someone and get the business.

I don't think it's about geography, it's about how good they are. Bucky v. Goldy is big in hockey because Minnesota is usually good.

Likewise, the Bears have (still) sucked for awhile now while the Vikings have generally been good.

Plus, the Bears are fun rivals and when they were good they had characters that you wanted to beat, but didn't hate. The Vikings just seem like a bunch of assholes.

# January 10th, 2010 11:54 PM james
For me, the most memorable Packers game was game 16 vs. the Steelers when Yancy Thigpen dropped what would have been the Steelers' game winning touchdown. His drop sent the Packers to the playoffs. I don't remember the year, but I remember thatit was in the Cowboys/49ers dominance era. The game meant nothing for the Steelers, but everything for the Packers. Now THAT was a great game.

# January 10th, 2010 11:56 PM james
The Vikings don't just seem like a bunch of assholes, they are a bunch of assholes. And here I'm only talking about their fans. And their quarterback.

# January 10th, 2010 11:56 PM kris
I remember that game! It was Christmas or Christmas Eve because I remember that we thought Yancy gave us the greatest gift of all!

Along those same lines, the '95 playoff game against the 49ers was huge too as that was the game that made you realize that, my God, the Packers were good enough to win the Super Bowl, which is why the subsequent loss to Dallas was so hard to take.



# January 10th, 2010 11:57 PM kris
And don't forget the Williameseses. When are they ever going to serve their suspensions?

# January 11th, 2010 12:05 AM james
I don't fault those Williamsesesses. I'm sure that 30% of the league takes "banned" substances. (At least!) It's the nature of the beast. It's the NFL.

# January 11th, 2010 12:10 AM james
In fact, I have to say that I think highly of the Vikings organization. (Not the fans so much.)

They are a great team this year, largely because they stand ready to pay great players. Jared Allan for one. They paid Sharper when GB wouldn't, and that was GB's loss. Add Longwell to the mix as well. I know you have a visceral disdain for Longwell, but my god, after seeing the alternative, don't you now see that he's worth the money?

# January 11th, 2010 12:12 AM kris
No doubt. But other players who've been busted have served their suspensions. Why are the Williamsesesseses so special? I mean, it was nearly two years ago. Are they hoping the NFL just forgets about it?

# January 11th, 2010 12:17 AM kris
I would never pay an NFL kicker big money unless he could consistently hit 60 yard FGs. I have no issue with the Pack getting rid of Longwell. In fact, I think so little of kickers that I can't actually tell you who the Packer kickers between Longwell and Crosby were.

In the Super Bowl year, I didn't like Jacke either. I used to chant "You suck, Jacke!" during every FG attempt. Hey, it worked for me.

The Vikings organization also had the whole "Love Boat" episode which doesn't reflect well on them. They also gave Chilly an extension which I'm sure they will bitterly regret.

The Packers gave up on Sharper too soon, but I don't think they feel the loss of too many other of their free agents.

# January 11th, 2010 12:33 AM james
The NFL knows that some NFL players may occasionally accidentally ingest "banned substances."

And they say,

"Wink wink, nudge nudge, whoops, it looks like you accidentally took a performance supplement, approved by your doctor, for medical reasons, that showed a false positive on this particular test. We don't think that you are a cheater. We think that it's a false positive! But we can't have the fans thinking that we condone such a thing.

It looks like you took steroidiphan, and when we test for steroidireal, that sometimes shows up. Get that? That's what happened. Write it down. Why don't you just sit out a few games and think about it?

You don't need fans thinking that you're a cheater, and we don't need fans thinking that we condone this sort of thing. So just sit out a few games and then come back, stronger than ever."

The Williamseseseses have challenged the established "wink wink, nudge nudge" rule. I respect that.

# January 11th, 2010 12:44 AM james
I recommend this book, God Save the Fan, for more on the NFL's willful blindness to steroid use. It's written by Will Leitch, one of the founders of deadspin.com.

# January 11th, 2010 8:40 AM kris
Cool, I've added it to my wishlist, although after reading From Lance to Landis I hope it's not as cynical and hopeless.

# January 11th, 2010 8:06 PM kris
I was listening to Doug Gottlieb (who I normally think is kind of a weasel) tonight on the way home. Some analyst was on talking about how if Favre retires the Vikings would go after Donovan McNabb. Gottlieb stopped the guy and was like "Wait! The Vikings can't do that. They can't do that to Favre. Don't they have to wait to see if he's working on with the high school kids again? They can't disrespect him like that."

Heh.

# January 12th, 2010 6:14 PM themandownthehall
I know you're disappointed, but that was the best game I've seen in a long time. Great comeback by Green Bay and very entertaining all the way through.